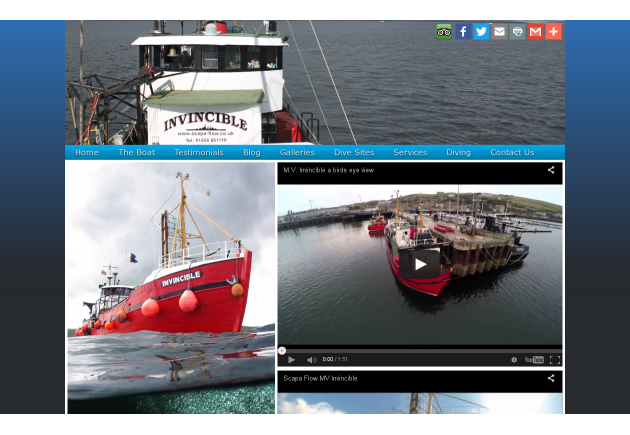 M.V. Invincible
MV Invincible is a scuba diving liveaboard taking scuba divers out of scapa flow Orkney and Shetland isles, she is also the larger dive boat operating in these waters. Operated by a husband and wife team, Ian and Fiona Trumpess. they have been providing the highest standard of service now for over 25 years.
What are their requirements
Ian and Fiona came to us wanting a brand new website as the previous website was around 10 years old and very out of date due to the website was very hard if impossible to update. They wanted a website that was easy to use in the admin and easy for the customers to use the website. They also wanted the website to be interactive with the use of videos and pictures and regular updates by the use of a blog.
What we did
Our solution was to develop a website that was very intuitive both in the admin panel so that Ian and Fiona could add or update content to the website with very little effort and the website layout and navigate allow users to use the website with very little effort and would keep coming back.

We also developed a custom website module for the website to show in depth information about dive site that the M.V.Invincible dived, this is a great resource for divers wanting to dive them dive sites. Each site give information about the dive, history, key information and not forgetting videos and pictures giving the user a great resource of that site. This custom dive site module also has a full admin section to support it which is also easy to be added or updated to.

we did not stop there we also added a galleries section which pictures and videos can be added, a blog section where news and information can me uploaded to and also testimonials, pages sections which all can be edited by the admin

Since the website has been launched we are still working closely with Ian and Fiona by helping them promoting their business and website with our digital marketing service, using our various digital marketing techniques to get the most return out of their investment. This have been a huge success for them and they have seem a massive increase the amount of booking taken as a result of our digital marketing service.
What Ian Trumpess Master of M.V.Invincible thinks about our work
I first met David of Module Web Design some years back when he came diving with us in Scapa Flow, he told me that he was into computers and made websites. So I commissioned David to do a sexy new website for us. Well he didn't disappoint, through out the whole process I found him extremely helpful and very patient during the build. His vast technical and expert knowledge was a god send as I do tend to struggle with computers. But it doesn't stop there, he has a creative eye for how things should look and work, and is always coming up with new ideas to help things grow and stay current. Any problems and he was there at the end of the phone to answer all questions and talk me through. If your looking for a new website or need any technical support with computing or Digital Marketing then David really is your one stop shop, he is easy to communicate with, reliable, dependable and just a pleasure to work with, I really can't recommend him enough. Your Sincerely Ian Trumpess Master of M.V.Invincible Fiona Trumpess Chief Mate of M.V.Invincible www.scapa-flow.co.uk